Rhianna gave SZA with a Fenty Beauty gift card after an alleged racial profiling incident last month.
SZA outraged over alleged racial profiling
SZA took to Twitter on April to call out an employee at a Calabasas Sephora who racially profiled her while buying Fenty makeup.
Lmao Sandy Sephora location 614 Calabasas called security to make sure I wasn't stealing . We had a long talk. U have a blessed day Sandy

— SZA (@sza) May 1, 2019
She later added:
Can a bitch cop her fenty in peace er whut

— SZA (@sza) May 1, 2019
Fans responded to the tweet of the 28-year old singer with calls for the firing of the employee.
SZA, meanwhile called the employee on her tweet 'Sandy Sephora'. The move is in line with the practice of Black Lives Matter of providing nicknames to individuals caught discriminating against the Black community.
On 26 May, the Grammy nominee was surprised to receive a Fenty gift card with a message of support from fellow singer Rhianna, the owner of the company.
SZA posted a picture of the gift card on her Instagram account with the note from Rhianna.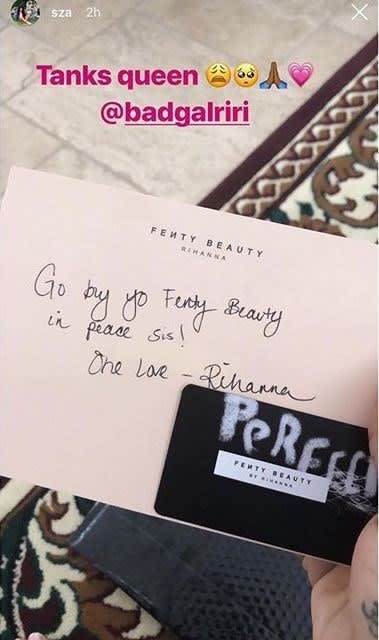 'Go buy yo Fenty Beauty in peace sis! One love — Rihanna,' the note read.
In response, SZA wrote 'Tanks queen.' She added hearts and tagged Rihanna in the post to show love to the fellow singer.
Sephora responded to SZA
In response, Sephora said to SZA:
You are a part of the Sephora family, and we are committed to ensuring every member of our community feels welcome and included at our stores.

— Sephora (@Sephora) May 1, 2019
The beauty giant also wrote a statement which was distributed to various media outlets. It said that aside from reaching out to SZA directly, they are gathering more information regarding the incident before making a move.
"We take complaints like this very seriously, profiling on the basis of race is not tolerated at Sephora,' it said.
The beauty company said it was looking into the claims of the singer and reassured customers that they do not tolerate racial profiling.
Sephora did not provide information on whether 'Sandy Sephora' was fired or not.
The company announced last week that all its stores, distribution center and corporate office, will close temporarily on 05 June for inclusivity workshops.